Okanagan Falls
250-498-2202
The following services are available in these areas:
Oliver

Physiotherapy
Registered Massage Therapy
Massage
IMS/dry needling
Acupuncture
Kinesiology
Joints in Motion – group class
Holistic nutritionist
Myofascial release
Pelvic Floor Health
Telerehab
Vestibular Rehabilitation
Chiropractic Services
Grand Forks

Physiotherapy
Myofascial release
Acupuncture
IMS/dry needling
Pelvic Floor Health
Telerehab
Vestibular Rehabilitation
Osoyoos

Physiotherapy
Registered Massage Therapy
Massage
IMS/dry needling
Acupuncture
Kinesiology
Nutritionist
Holistic nutritionist
Myofascial release
Aging with Balance – group class
Pelvic Floor Health
Joints in Motion – group class
Telerehab
Vestibular Rehabilitation
dummy
PHYSIOTHERAPY
Physiotherapists are primary healthcare professionals with a significant role in health promotion and treatment of injury and disease. They combine their in-depth knowledge of the body and how it works with specialized hands-on clinical skills to assess, diagnose, and treat symptoms of dysfunction, injury or disability.
IMS/DRY NEEDLING
Our Dry needling services involves identifying the source of the pain and advancing a small filament needle into the related muscles, eliciting a small twitch response and then relaxing of the muscle! The identification and stimulation of these trigger points can "reboot" the muscle to alleviate both the original problem area as well as the secondary pain. Many patients experience dramatic pain relief and improved function in just a few treatments, with lasting relief.
ACUPUNCTURE / TRADITIONAL CHINESE MEDICINE
Acupuncture is an ancient practice supported by modern medicine. It consists of using thin, sterile needles to stimulate points that engage the body's own healing mechanisms. Acupuncture is used to relieve pain, promote healing after injury or surgery, address digestive, respiratory, cardiovascular, and reproductive health, support weight loss, smoking cessation and addictions treatment, enhance immunity and support overall health. Your TCM practitioner may also utilize herbal and dietary support. Acupuncture and TCM can be used as a standalone therapy or alongside other forms of care. Download pre-appointment paperwork below and fill it out prior to your first appointment.
MASSAGE THERAPY (RMT)
Therapeutic massage can benefit a broad range of conditions from headaches, anxiety and fibromyalgia to joint dysfunction, repetitive strain injuries, low back pain and whiplash. Massage works to reduce postural imbalances and muscle tension while regular treatments have proven to be an effective tool for stress and pain management. Download pre-appointment paperwork below and fill it out prior to your first appointment.
KINESIOLOGY
Kinesiology is for people who have an injury, disability or medical condition(s) and want to improve their health and fitness in a safe progressive manner. Exercise prescription, Work Conditioning, Aquatic Therapy, Group Fitness Programs, Ergonomic Assessments, and Personal Training are all things that our Kinesiologist can provide.
NUTRITION
Holistic Nutritionists look at the whole person when creating a nutrition plan tailored just for you. Sit for a consultation with our nutritionist, and using your symptoms as our guide she'll make recommendations based on the body systems that need the most attention.
AGING WITH BALANCE PROGRAM
As we age, most of us will experience decreases in flexibility, strength, balance, coordination and endurance. Unfortunately, these changes can increase the risk of falling. Each year over 33% of elderly Canadians experience a fall. About half of these falls will result in moderate to severe injuries including sprains, fractures or head injuries. These injuries can permanently reduce mobility and independence.
Aging With Balance is an exercise program designed specifically to address age-related changes and reduce the risk of falls. Our physiotherapists will work directly with you in our regularly scheduled group exercise classes. Our program will improve your strength, balance, flexibility and coordination so that you feel more confident walking in your home and in your community. Our 1-hour classes are held Mondays and Wednesdays at 10 am in our Osoyoos facility. Our safe and fun classes are held in a social environment. Come check us out or give us a call to find out more information! You will make new friends and feel great in no time!
Are you at Risk?
Over 65
Weakness
Difficulty walking
Vision changes
Sensory deficits
Osteoporosis
If you answered yes to any of the above, you may be at risk of a fall. Our physiotherapists can assess your level of risk and help you decide if Aging with Balance is for you!
Aging With Balance classes and services are ongoing. A block of 8 classes starts at $80 and is covered by all major insurers.
JOINTS IN MOTION PROGRAM
Do you suffer from Osteoarthritis of the hip or knee? Are you waiting for Joint Replacement Surgery?
We are pleased to offer our Joints in Motion Exercise class to the communities of Osoyoos and Oliver – for FREE!
After an assessment by one of our Physiotherapists, you will be enrolled in a 6-week research-based exercise program proven to: reduce joint pain, improve strength and function, and reduce the need for joint replacement surgery.
PELVIC FLOOR HEALTH PROGRAM
Pelvic floor Physiotherapy involves assessing and treating the pelvic floor muscles involved with urinary, bowel, and sexual function. When these muscles aren't functioning properly this can lead to symptoms such as incontinence, increased urgency and/or frequency, retention and pelvic pain. The goal of pelvic floor physiotherapy is to improve the following symptoms using a combination of treatment techniques: Urinary Incontinence, Urgency, Pregnancy-related pain, Constipation, Chronic pelvic pain, or post-prostatectomy concerns.
CHIROPRACTIC SERVICES
Modern day chiropractic involves diversified manual therapies to all structures related to the area of pain and dysfunction. Starting with a thorough initial assessment, our chiropractors diagnose the cause of the pain and outline a treatment plan involving soft tissue therapies, joint mobilizations/manipulation*, exercise prescription and education.
*Chiropractic joint manipulations and adjustments involve specific application of a gentle thrust to affected joints resulting in increased pain-free range of motion. Often times there is an audible popping sound which is gas released within the joint capsule.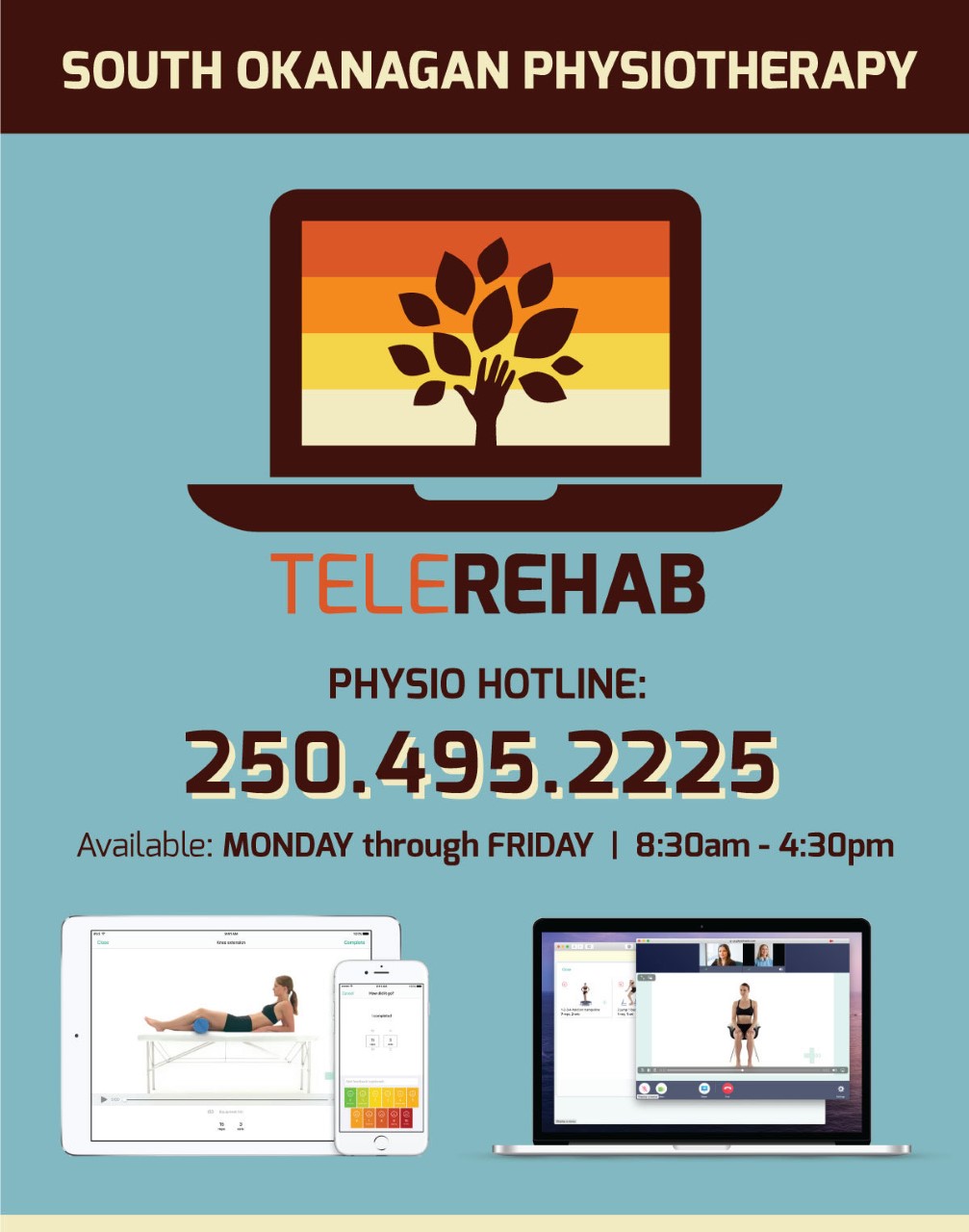 Our TELEREHAB services are officially launched!
What is TELEREHAB Physiotherapy? TELEREHAB is a platform that our therapists are able to use to assess, diagnose, and develop personalized treatment plans, while maintaining social distance from our clinics to your home via computer, smart phone, or tablet, safely and securely.
How does a TELEREHAB session work and how can it help?
Each TELEREHAB appointment will consist of a full subjective and objective assessment, a diagnosis of your injury or condition, and education about our findings. We will teach you ways to self manage and treat your symptoms, along with providing answers to any questions that you might have. After your appointment, a prescribed stretch, movement, and exercise plan will be developed and emailed to you or sent to you through our PhysiApp.
As physiotherapists, we take pride in our manual hands on treatment skills and techniques, however therapy and rehabilitation come in many forms, which our physiotherapists are trained to provide and to provide to you virtually. We are here to actively help and empower our patients in overcoming their pain, symptoms, and/or injury independently.
Do you need a doctor's referral for TELEREHAB?
Nope. As primary healthcare professionals, a doctor's referral is not needed for a physiotherapy or TELEREHAB session. Just give us a call and we will book you in.
Will insurance cover TELEREHAB?
Absolutely. While everyone's insurance plans are different, given our current situation of the COVID-19 pandemic, most major insurance plans, including ICBC and WorksafeBC, have given us the green light and will cover TELEREHAB sessions. If you have any specific questions about your coverage, give us or your provider a call. We are happy to help. And we DIRECT BILL to make things even simpler.
How can you book for TELEREHAB physiotherapy?
Give us a call! While we are still doing our part to flatten the curve and provide social distancing by postponing all in clinic care, we are here in clinic to book you in virtually, or to answer any questions that have. Call on us. We are happy to offer FREE CONSULTATIONS so do not hesitate to call us with any questions.
We are here to help our communities in any way we can, so please call on us. Anytime.
Joint Mobilization and Manipulation
Modalities including Thermal Therapy,
TENS, Muscle Stimulation, Ultrasound, IFC
Self Management, and Symptom Reduction Education
Therapeutic Exercise
Myofascial release
Soft Tissue Massage
Trigger Point Release
Nutritionist
Cervical and Lumbar Traction
Taping
Posture Retraining
Manual Stretching and Muscle Energy Techniques
Acupuncture
Dry Needling
Neuromuscular Re-education
WCB/Work Conditioning Programs
Registered Massage Therapy
Job Site Assessments
Ergonomic Assessments
Sports Conditioning Programs
Pre/Post Surgical Care
TMJ Management
Vertigo Treatments
Cancer Rehabilitation
Gait, Balance and Locomotion Training
Falls Prevention Program
Pediatric diagnosis, treatment and management
Health Promotion/Injury Prevention
Repetitive Strain Rehab
Rheumatological Therapy
Back Pain Management
Sciatica Treatment
Physiotherapy
$75 – Private Initial Assessment
$65 – Private Subsequent Visit
$35 – MSP Initial Assessment
$30 – MSP Subsequent Visit
$40 – ICBC Initial Assessment
$40 – ICBC Subsequent Visit
Direct Billing – RCMP and Veterans
Private Home Visits: $110
Registered Massage Therapy
$90 – 60 Minute Massage
Massage Practitioner 
$75 – 60 Minute Massage
Acupuncture
$75 – Initial Assessment
$65 – Subsequent Visit
Very inviting, understanding, and helpful. Great people here, always cheerful. I'm feeling better every time I come, can't ask for anything else. Go team!